Our cloud management software lets you control access anywhere, anytime. Simply login to the online portal to manage users, grant and revoke access and view up to 30 days of activity history. Whether you have 1 door or 1,000 doors, in one location or many, everything is at your fingertips on any device.
We offer two different service levels to fit any organization and budget:
Option 1: LITE
A FREE, easy-to-use access management service for sending Smartkeys to anyone who is using the VIZpin SMART app to unlock a door with a VIZpin Bluetooth lock. Perfect for simple installations where you need to control access to doors, gates or latches. Change your mind? No problem. It is just as easy to revoke the Smartkeys. VIZpin LITE includes 5 free Smartkeys. You can purchase additional Smartkeys or upgrade to a VIZpin PLUS account (option 2 below).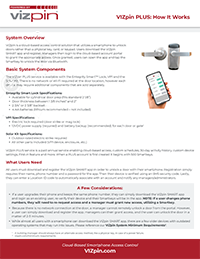 A full-featured access management service that lets you send ultra-secure, encrypted electronic Smartkeys with schedules to anyone who is using the VIZpin SMART app to unlock a VIZpin-guarded door. Create roles to apply to various groups of users and edit them without utilizing additional Smartkeys. 1 and 3 year service plans available.  Learn more about how VIZpin PLUS works here.
An alternative option if you want to just upgrade your existing access control system is our vPROX Long-range Bluetooth Readers.
LITE vs PLUS Comparison Chart
| Service Level | LITE (Free) | PLUS |
| --- | --- | --- |
| Grant Access | | |
| Revoke Access | | |
| Relay NC/NO* | | |
| Keys with Schedules | | |
| Wiegand Input* | | |
| Buzz-in (Door strike/NO only) | | |
| VIZpin FOBs** | | |
| 30 Day Audit Trail | | |
| Adjust Settings & Read Range | | |
| First-in Unlock*** | | |
| Initial Smartkeys**** | 5 | 500 |
| Warranty | 1 Year | Lifetime |
*VP1 or Solar Kit only.
**FOBs and Wiegand input devices must be less than 20% of total users on an account. In addition, each smart lock can only support 32 FOBs, and each VP1 can only support 512 cards/FOBs.
***First-in unlock feature requires a door strike rated for continuous duty.
****Quantity included during account creation. Additional Smartkeys can be purchased/added at any time.
Not sure which service to choose?
Answer 4 quick questions on our Service Selector to determine which is right for you.