Upgrade your existing system with our vPROX long-range Bluetooth readers for a secure, convenient access solution that eliminates the hassle of managing key cards and FOBs.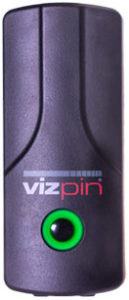 vPROX readers work with any legacy access control system.
✓ Simple: Easy to install and update
✓ Contactless access control – you do not need to touch the reader only the Smartkey in your app on your smartphone
✓ No Replacing Readers: There is no need to replace your readers, card keys or FOBs, just add a vPROX reader wherever you want to use your smartphone
✓ Use the Same Wiring: There's no need to replace your current wiring
✓ Secure: Can't be copied
✓ Affordable: No annual user subscription
Users simply download the VIZpin SMART app and register. Managers then grant access using our cloud-based portal and simply add the vPROX mobile credential their existing access control system, just like adding a new keycard.
vPROX mobile credentials are secure; they only work on the smartphone they were issued to and can't be copied. Best of all, vPROX mobile credentials are affordable and there is no annual user subscription. You can also transfer your vPROX mobile credentials to a new Smartphone without having to contact your system administrator.
Details
Works with any access control panel
No annual subscription
Easy to install and manage
Long read range 30' (10M)
Up to 5 Managers/Administrators
Datasheets & Install Guides
Tech Tip Videos
Related Items