Employee turnover in quick service restaurants (QSR) and retail is higher than ever. If ex-employees can get back into your store, you have a serious liability. If they were a key holder and you haven't changed the locks on your doors, they can get back in. If they "know the code" and you haven't changed it, they can get back in. If you change the code and they have a friend that works there, they can get back in. Alarms can alert the police, but think about how much damage could be done before the police get there.
Changing door locks or re-coding the door keypad is expensive and time consuming. Keycard systems are expensive and difficult to manage. VIZpin is secure, convenient, and affordable! VIZpin lets you quickly grant and revoke Smartphone keys to employees and vendors. The keys can work 24/7 or on a schedule. They can easily be revoked anytime, from anywhere and best of all, you don't need to connect VIZpin to your local network. Whether you have 1 store or 1,000… VIZpin will work for you!
Key Benefits for QSR and Retail Stores:
Wouldn't it be great to have a wireless access control system for stores that would:
✓ Secure: Keep employees and customers safe
✓ Easy to Manage: Let you manage employee turnover with ease
✓ Save Money: There's no locks to change or physical keys to replace
Get peace of mind knowing your stores are secure and your employees and managers are accountable.
Related Case Studies
Related Documents/Videos
Related Blog Posts
Door Entry System Options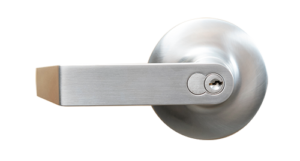 Perfect for places that don't currently use an electric door strike where you want to add Bluetooth access
Works great with doors already equipped with an electronic door strike (ex. Wiegand)
How It Works
Simple to set up, use, and manage.