Touchless access control (also known as a contactless access system or a touchless entry systems) is more important now than ever before. COVID-19 has raised awareness of how quickly germs can spread and it is forcing everyone to rethink their personal and work behavior. Going above and beyond to stop the spread of germs is now the norm.
So, how can property managers help residents feel more comfortable when entering common areas? A touchless access systems is the answer!
Doors in Common Areas Are Petri Dishes for Germs
Anywhere people congregate presents an opportunity for germs to spread and apartment buildings are no exception. How property managers and maintenance staff deal with common areas like pools, lobbies, and fitness clubs is critical. It is important to recognize those areas and have a plan for dealing with them.
Door Handles
The first place to start is door handles in common areas. They may be touched by hundreds of people each day and are prime suspects for spreading germs.
Temporary Options Aren't Very Practical:
Touchless Access Options for Door Handles: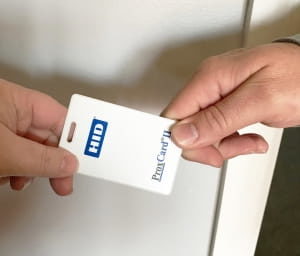 The good news is there are options for affordable products that don't require residents or staff to touch anything unfamiliar.
If you have a card or fob system already – you can  update that system with a touchless access control system. It's easy to add a Bluetooth access control reader for smartphones with smartkeys. These not only provide a lower-cost option than revamping your existing infrastructure, but they can be easily added to an existing system in minutes.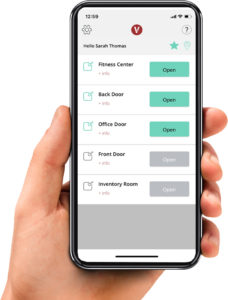 Smartphone access control systems also deliver these benefits:
Residents will always want to feel safe where they live, especially in a post-COVID world. Smartphone access control makes it easy for property managers to provide secure, touch-free access to building entrances, parking, amenities, and more to ensure the right individuals have access and unwanted visitors are kept out.