Multifamily property owners and managers are continually looking to be more proficient in order to increase their NOI while at the same time providing a safe environment for residents. VIZpin is an affordable smartphone access control system for apartments and other multifamily properties that increases property value, improves security & convenience, reduces operating costs, and directly improves NOI.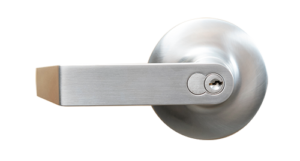 ✓ For common areas: VIZpin makes it easy for property managers to provide secure access for building entrances, parking, amenities, and more.
✓ For individual units: The new VIZpin Smart Lock extends this convenience to individual rented/leased units.
This battery-operated smart lock is an affordable way to add convenient security to individual apartments, offices, utility rooms, and even common area bathrooms. It fits into any standard door and installs in minutes.
Adding smart locks or Bluetooth access control readers as your go-to multifamily door entry system is more convenient and secure, both for tenants and property owners/managers.
Benefits for Property Managers Include:
| | |
| --- | --- |
| | Increased Property Value: Today security is a requirement and low-tech solutions like lock and key, keypads and cardkey systems don't cut it. Tenants want the latest Smart technology and to control everything from their Smartphones. |
| |   |
| | Improved Security: With keypad and key card systems, tenants can easily share the credentials and allow non-residents to use all the facilities. VIZpin Smart Keys can't be shared, so the only people using the facilities are people on the lease. |
| |   |
| | Improved Convenience: Carrying a key, remembering a PIN number, or carrying a keycard are inconvenient. Everyone carries their Smartphone all the time. |
| |   |
| | Reduced Operating Costs: Keypad and key card systems are difficult to manage. You have change PIN numbers or re-issue keycards when tenants turnover or someone loses their keycard. Other systems can be very complicated requiring service calls or hours of training for new staff. With VIZpin you can issue or revoke credentials anytime from anywhere and tenants can securely transfer their credentials when they lose or upgrade their Smartphone without distracting the property manager. Plus, VIZpin is simple and requires no special training. |
| |   |
| | Automatic Updates and New Features: With traditional systems you have to maintain system software, network and ISP. VIZpin is cloud based so updates are automatic. It uses Bluetooth and your Smartphone to connect to the cloud so there is no local network, computer, software, or ISP required. |
Learn more about our smart lock and access control systems for apartments or check out Resident FAQs.